Step 1: What Are You Trying to Achieve?
Before you do anything, think about what your ideal bathroom would be. Forget constraints of money and space; just imagine what you want and what the intended purpose will be. Who is this bathroom for? Is it a master bathroom? A powder bathroom? A kid's bathroom? How often will it get used and what will the function be?
Step 2: Research and Budget
Before you get ahead of yourself, it's best to know what you will be able to spend. You probably already have an idea of what you can afford, so the first thing you'll want to understand is how much bathroom remodel is going to cost. According to our data, half of homeowners will spend more than $10,000 on a master bathroom remodel.
Step 3: Find a Professional
Whether or not to hire a professional for any part of your project is up to you. If you know what you want and where to find what you need, and are confident that your ideas will work, then the design phase could be left up to you.
For major structural changes, you may need to hire an architect. Plumbing and electrical work is almost always hired out. In some places, it's required by law. When in doubt, hire a pro to help.
Step 4: Refine Your Plan
If your dream bathroom doesn't seem as though it could ever fit in the space you have, think about what's on the other side of the bathroom walls. Can you steal space from an adjacent closet, bedroom or other unused area? Is it possible to punch out from your home to create more room?
Choosing the style of bathroom you want can be complicated. Designers recommend that you look to the rest of your house for a jumping-off point. For example, you probably don't want to do an industrial-style bathroom in a Craftsman home. But, hey, it's your money.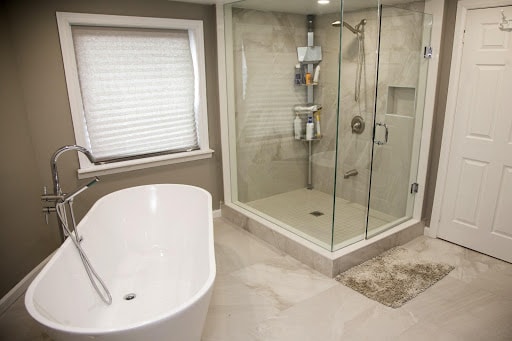 Step 5: Approve the Schematic Design
In this phase, you'll be reviewing sketches and preliminary floor plans and elevations that show the layout of your planned bathroom and the size of its components, like the vanity and any cabinetry.
The point here is to get the major elements and spacing down before moving forward, not to have a complete picture of how the finished bathroom will look in terms of color and materials.
Step 6: Choose Your Materials, Finishes and Colors
You've likely been planning for this remodel for quite some time and already have your ideabooks with inspiration photos breaking down how you want your space to look.
Now's the time to research materials so you'll have at least have some working knowledge and be able to have a good conversation with your designer or supplier. For example, marble looks great, but it' a pain to maintain. Maybe you want to look at easy to clean options. Maybe you didn't know that wood can indeed work in bathrooms or weren't aware of the great stone possibilities.
Step 7: Work on Design Development and Construction Documents
At this stage, you should be actively reviewing the floor plan, elevations, tile layout and any other relevant drawings associated with your project. More planning means fewer mistakes will come up.
Also, you want to be kept up to speed on everything that goes into your project — what materials will be used and how they will be laid out. If something isn't specified in construction drawings, such as general tile layout or how you want trim pieces in your shower niche to look, chances are your tile installer will make a decision on the spot, especially if you're not around on the day of installation.
This stage will also encompass the permit process. If you're working with a knowledgeable professional, he or she will take this up, as they are skilled at navigating the process and working with contacts they've made at the local planning office. If you're doing a lot of the work yourself, you'll need to brush up on what permits you'll need, and where and how to submit drawings.
Step 8: Get Estimates From Contractors
It's common knowledge that you should get three separate estimates from licensed contractors for your project. If you're already working with a designer, he or she may know skilled people or can help you interview different professionals to make sure they're right for the job.
Step 9: Plan for Installation and Get Ready for Demo
As mentioned, there's a lot that goes into a bathroom remodel. Depending on the size and scope of your project, the process can take six weeks to eight months or more, according to the National Kitchen & Bath Association. And while some of it can be done on the fly, you're much better off the more prepared you are.
Step 10: Make a Post-Completion Punch List
The National Kitchen & Bath Association recommends that you keep all receipts, contracts, warranties and product information (so you understand how to care for and maintain the materials).
Nevertheless, it's highly likely that your bathroom remodel will have something wrong, overlooked, broken, scratched or missing — a dent in the wall, a malfunctioning drawer, messy caulk.
Step 11: Decorate
Congratulations on your new bathroom! Now it's time to make it look nice with the right towels, mats, soap holders, accessories and more. And if you have kids, don't forget to childproof your bathroom.